Willan F. is the outcome of the successful collaboration between France and America represented by the husband and wife partnership of Ann and Willy Francois. In 1982 Ann and Willy met under the wide and brilliant sky of New Mexico. From that time till the present, Mr. and Mrs. Francois have joined their sense of style, grace and beauty to produce artworks of decoupage.
They have become known for a classical historical style and superb craftsmanship offering a myriad of items, each available in a range of patterns that change seasonally. Their studio features exquisite decoupage artworks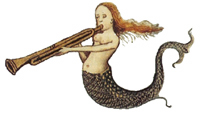 including desk, vanity and table accessories constructed with bevel and antique glass and copper beading. Corporate clients can order custom pieces using logos or images from their own archives or consult with Ann and Willy to create a unique gift.
Willy Francois, born in a small town in the French province of Normandy, has been glueing, tacking, cutting or hammering things together for some 25 years with the diligence of the medieval craftsman whose skills are still evident in the French countryside. He holds a diploma from the renowned Parisian art school, Ecole Boulle. Boulle, the master furniture maker, created the school as a place of study for all the arts while emphasizing home decor.
Willy says, "It is part of the culture of France to make beautiful things, either to wear or adorn the environments in which people eat, drink, sleep, walk or play. In France, beautiful things are taken very seriously!"
Ann Sheps Francois finished her master studies at Rutgers University in New Jersey concentrating on photography and its relevance to art therapy. For Ann and her husband, their work is as much about their lives as it is about what they do. "We are inspired by the beauty of heart, mind and nature as well as what simply pleases the eye. We try to reflect that in every piece we create."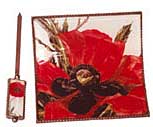 Their technique involves a lengthy process of design, cutting, application and finishing. All work is done by hand in their mountaintop studio, and in the studios of the local artisans they have assembled. Much concern and attention is given to every detail…making each piece a uniquely crafted artwork.
CARE & MAINTENANCE
The glass can be cleaned with a soft cloth using water or glass cleaner. The copper leaded patined edges can be polished from time to time with a gentle cleaner or left to darken with age. Do NOT submerge in water or place in dishwaster: however, the pieces will withstand regular washing. Lenghthy exposure to direct sunlight over time may cause fading.