Corporate & Luxury Gifts
Willan F. has been designing and providing custom work for over two decades, satisfying the unique needs of many clients in the private and business sectors, as well as for government and educational institutions.
---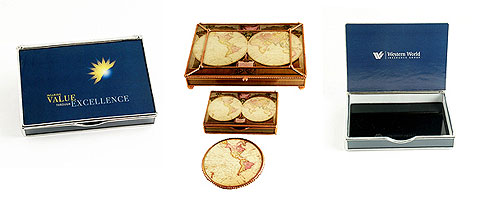 "We were looking for a high-quality, unique, appealing and useful corporate gift, and it was very difficult to find. Willan F quickly understood what we had in mind, designed and produced an elegant, unusual gift that fit our criteria and surpassed our expectations! It has been a pleasure to work with them." Linda Leone, Executive Assistant, Office of the President and CEO, Western World Insurance Group
---
We offer a unique vision of Corporate and Luxury Gifts for any occasion. Whether you need a gift for your most important client or want to showcase your company to hundreds, we will give your project the special attention that will make your gift stand out and be remembered.
The process of choosing a design and object is simple, and we are available to help you throughout. You may choose any design that you find on our website; or we can help you find design material that fits your specific needs, i.e., prints of city maps or buildings in which you are hosting a meeting or other relevant art prints; or you can provide your own art or logo. Once you have made your decision regarding art and object, we will provide you with a paper proof, and finally we can produce a sample for approval.
A One of a Kind Ornament for the Parks
Designed exclusively for the National Park Foundation and W Washington D.C. in colaboration with the historic Washington jeweler Tiny Jewel Box, the 2011 ornament features a vintage decoupage image from the very first Lighting of the National Christmas Tree in 1923. Ornaments were autographed by the performers of the 89th annual National Christmas Tree Lighting ceremony and auctioned off to benefit the National Park Foundation. Ellie Goulding, Carson Daly, Rodney Atkins, Big Time Rush and One Republic signed and autographed the custom brass, engraved ornaments which were on display ath the W Washington D.C. in December 2012.
Featured Article
Capitol File Magazine - 10 Luxuious Gifts to Give:
"For decades Tiny Jewel Box has been the gifting go-to for Washingtonians. In addition to rare and collectible baubles, the storied boutique also has an abundance of unique presents for the home or office. "When these beautiful Willan F. decoupage boxes were introduced by Tiny Jewel Box in 2001, they immediately became the gift of choice, not only for politicians and Washington society, but also as diplomatic gifts of state from the president and first lady," says Anita McBride, executive-in-residence at the School of Public Affairs at American University and former chief of staff for First Lady Laura Bush." Read more of this article...
Additional Projects